We are pleased to partner with Procept Associates LTD and Laurentian University: Goodman School of Mines to deliver this training program.
The Northwestern Ontario Innovation Centre is partnering with Procept Associates to deliver a comprehensive project management curriculum in 2022-23. This is an outstanding opportunity for project-focused organizations to build their talent base, for future Project Manager's on the road to their PMP, or for existing PMs to maintain their certifications. The below courses are offered to participants as individual courses as the Certificate program is no longer accepting registrations this year. Registrants may have the option to use their completed courses toward our Certificate program in the future, pending future course offerings and partner agreements.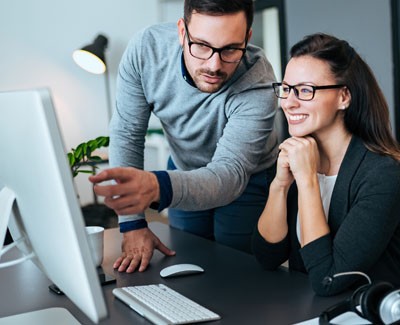 To Register:
---
To register yourself and your team please click the link below.
Here is a list of the courses that will be offered. Please note, courses will be delivered in half-day sessions and the dates are subject to change, but we are avoiding July, Aug, and Dec due to the usual vacation time. Participants will have the opportunity to select the courses most relevant to them.
These courses will be instructor-led virtual deliveries.
3-day Project Management Essentials:
January 18 - 20 & 25 - 27, 2023 – 8:30 am – 12:00pm ET
This course offering is offered directly through Procept. Please reach out to jeff@nwoinnovation.ca to register.

This 3-day fundamental course is an accessible, hands-on journey through a project from initiation to closing, with a special emphasis on initiation and planning. Course participants work in project teams to practice PM tools while they experience the realistic challenges that are encountered on projects. Although it is possible to customize a case study for a specific industry or organization, this course offers 2 case studies so there is something for everyone.

This course is accredited by the Project Management Association of Canada (PMAC) as meeting their standards for quality. After completing this course, participants are eligible to write the Certified Project Coordinator (CPC) exam from PMAC.

More Details: https://training.procept.com/content/project-management-essentials

Please note, this course is mandatory for the certificate program. Participants can provide evidence of 'equivalency' to Procept who will conduct a Prior Learning Assessment of the credentials provided. There is a $100 charge for the assessment.
1-day Procurement and Contract Management:
Jan 30-31, 2023 – 8:30am – 12:00pm

This course will guide you through procurement practices, the bid process, contract negotiations, managing contractors and vendors for optimum performance and provide a taste of contract law. This course will provide the fundamental tools required for project managers. It will also offer you an insight into the role of the procurement officer or buyer on a project team.

More Details: https://training.procept.com/content/project-procurement-and-contract-management
Pricing:
10 day Certificate cost: $5400 + HST
1-Day Courses a-la-carte pricing: $629 + HST
2-Day Courses a-la-carte pricing: $989 + HST
3-Day Courses a-la-carte pricing: $1,439 + HST
Additional Costs that may be incurred:
The following courses* require the participant to purchases additional study materials of $40 + HST

Business Analysis for Project Managers
* study material requirements may change between now and the start date

Exam fees are not included should the participant choose to pursue additional certifications
Procept Associates LTD's PMP Exam Prep Public Schedule 2021-2022
Interested in writing the PMP Exam? These sessions will get you ready to write.
Canada-Ontario Job Grant
The Canada-Ontario Job Grant can offset training costs to a maximum of $10,000 – $15,000 per employee.
When filling out the application, please list the Northwestern Ontario Innovation Centre as the trainer.